Television director Howard Storm, Hollywood talent manager Budd Burton Moss and actress/singer Jodi Benson will join us this weekend on TV CONFIDENTIAL, airing Mar. 8-10 at the following times and venues:
Share-a-Vision Radio
San Francisco Bay Area
Friday 3/8
7pm ET, 4pm PT
10pm ET, 7pm PT
Click on the Listen Live button at KSAV.org
or listen to us on the KSAV TuneIn channel
RadioSlot.com
San Francisco, CA
Friday 3/8
10pm ET, 7pm PT
Saturday 3/9
11pm ET, 8pm PT
Sunday 3/10
11pm ET, 8pm PT
with replays Monday thru Friday 11am ET, 8am PT
Click on the Talk Slot button at RadioSlot.com
KDUN AM-1030
Reedsport, OR
Saturday 3/9
Noon ET, 9am PT
Streaming at kdunradio.wixsite.com/kdun
KSCJ Talk Radio 1360 AM and 94.9 FM
Sioux City, IA
Saturday 3/9
4pm CT, 2pm PT
Sunday 3/10
6pm CT, 4pm PT
Streaming at KSCJ.com
or listen to us on the KSCJ TuneIn channel
Indiana Talks
Huntington, IN
Saturday 3/9
8pm ET, 5pm PT
Sunday 3/10
10am ET, 7am PT
Click on the player at IndianaTalks.com
or listen to us on the Indiana Talks TuneIn channel
WON 920 The Apple
Brooklyn, NY
Saturday 3/9
10pm ET, 7pm PT
Streaming at Live365.com
KSCO AM-1080 and FM-104.1
San Jose, Santa Cruz and Salinas, CA
Sunday 3/10
9am ET, 6am PT
Also streaming at KSCO.com
or listen to us on the KSCO TuneIn channel
KOMY AM-1340
La Selva Beach and Watsonville, CA
Sunday 3/10
9am ET, 6am PT
Hear us online on the KOMY TuneIn channel
CROC Radio
Kimberley, British Columbia, Canada
Sunday 3/10
1pm ET, 10am PT
Streaming at CROCRadio.com
or listen to us on the CROC Radio TuneIn channel
KHMB AM-1710
KHMV-LP 100.9 FM
Half Moon Bay, CA
Sunday 3/10
9pm PT (Mid ET Mon 3/11)
Click on the Listen Live button at KHMBRadio.com
or listen to us on the KHMB/KHMV TuneIn channel
PassionateWorldTalkRadio.com
A member of the Truli Media Group
Ann Arbor, MI ~ Boston, MA ~ Chicago, IL ~ Melrose, FL ~ Los Angeles, CA
Various times throughout the week on PassionateWorldTalkRadio.com
and the PWR channel on TuneIn
Legendary Hollywood agent and talent manager Budd Burton Moss and longtime television director Howard Storm will join us this week as we continue to commemorate the forty-fifth anniversary of the premiere of Happy Days with a special tribute to producer Garry Marshall.
Budd Moss has not only represented many of the brightest stars in film, television and sports over the past six decades, he had a hand in casting in many of the most iconic comedy and dramatic series in TV history—one of which was Happy Days. Budd's book Hollywood: Sometimes the Reality is Better Than the Dream is a thoroughly entertaining account of his career in Hollywood, including his efforts on behalf of Rita Hayworth, Jack Valenti, Tom Bosley, John James and Hunter Tylo. Larry King says that Budd's book provides "a wonderful and unique look at a part of the Golden Age in Hollywood, TV and films that will never be repeated!" while the late Jack Valenti himself once described Budd as a man "never gives up and is always moving forward," both of which are indispensable traits to a successful agent.
Howard Storm began in the entertainment industry as a stand-up comedian in New York, appearing on The Merv Griffin Show, The Dick Cavett Show, and The Tonight Show. His first work in film came in 1969, when he acted in and served as the assistant to director Woody Allen in Take the Money and Run. After working on Allen's next two films, Bananas and Everything You Always Wanted to Know About Sex* But Were Afraid to Ask, Storm came to Hollywood, where he wrote episodes of such top shows as The Partridge Family, All in the Family, The Bob Newhart Show, and Happy Days before segueing into directing. His many credits as a TV director include episodes of such popular shows as Laverne & Shirley, Everybody Loves Raymond, Kenan and Kel, Fish, Daddy Dearest, Rhoda, ALF, Angie, and nearly sixty episodes of Mork & Mindy. Howard Storm and Budd Moss will join us in our second hour.
Budd Moss and Howard Storm will be among the honorees as this year's annual Beverly Hills Theatre Guild luncheon, which will take place on Sunday, Mar. 17 at the Four Seasons Hotel in Beverly Hills. The theme of this year's luncheon will be "The Hollywood Renaissance," while the highlight of the program will be a tribute to the films and television series of Garry Marshall. Proceeds from the luncheon will help the Beverly Hills Theatre Guild fund their annual national playwriting competitions. For more information, call (310) 765-1605 or go to BeverlyHillsTheatreGuild.com.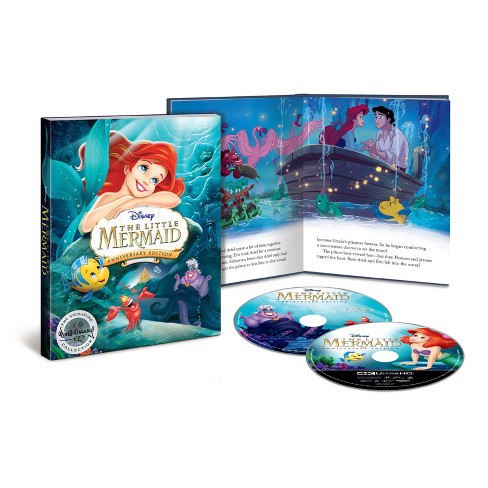 This week's program will also include a conversation with singer/actress Jodi Benson. Jodi received a Tony Award nomination for her starring role in the Broadway production of Crazy for You, while her animation voice credits include the voice of Barbie in the Toy Story films, her signature role as Ariel in Walt Disney Pictures' The Little Mermaid—a role for which she was named an official Disney Legend—and, more recently, Ralph Breaks the Internet. The Little Mermaid has been reissued on Bluray and is now available in a new 30th Anniversary Walt Disney Signature Collection Edition. Jodi Benson will join us in our second hour.
Also this week: We will mark the recent passing of Morgan Woodward, the durable character actor whose career spanned more than five decades and encompassed more than 250 film and television roles, including nineteen episodes of Gunsmoke, twelve episodes of Wagon Train, and two episodes of the original Star Trek. Morgan's many motion picture roles included Boss Godfrey, aka The Man with No Eyes, in Cool Hand Luke, while fans of the original Dallas knew him as Punk Anderson.
Morgan Woodward passed away on Friday, Feb. 22 at the age of ninety-three. You might recall that Morgan made two appearances on TV Confidential, including a wide-ranging conversation that originally aired in September 2012 that covered such topics as Cool Hand Luke, Star Trek, Dallas, his early background with Disney, his long association with Westerns, and the pivotal assist that Aaron Spelling gave Morgan very early in his acting career. We'll replay that conversation with Morgan Woodward in our first hour.
TV CONFIDENTIAL: A radio talk show about television
Fri 7pm ET and PT on Share-a-Vision Radio, KSAV.org and CX Radio Brazil
Fri 10pm ET, 7pm PT, Sat/Sun 11pm ET, 8pm PT on RadioSlot (San Francisco, CA)
Sat Noon ET, 9am PT on KDUN AM-1030 (Reedsport, OR)
Sat 4pm CT, 2pm PT and Sun 6pm CT, 4pm PT KSCJ Talk Radio 1360 AM and 94.9 FM (Sioux City, IA)
Sat 8pm ET, 5pm PT and Sun 10am ET, 7am PT on Indiana Talks (Huntington, IN)
Sat 10pm ET, 7pm PT on WON 920 The Apple (Brooklyn, NY)
Sun 9am ET, 6am PT on KSCO-AM 1080 (San Jose, Santa Cruz and Salinas, CA)
Sun 9am ET, 6am PT on KOMY-AM 1340 (La Selva Beach and Watsonville, CA)
Sun 1pm ET, 10am PT on CROC Radio (British Columbia, Canada)
Sun 9pm PT, Mon Mid ET on KHMB-AM and FM (Half Moon Bay, CA)
Various times throughout the week on the Entertainment Channel at PWRNetwork
Tape us now, listen to us later, using DAR.fm/tvconfidential
Also available as a podcast via iTunes, Spreaker, Spotify, FeedBurner, SoundCloud, Stitcher, YouTube and other platforms
Follow us online at http://televisionconfidential.com
Follow us now on Twitter: Twitter.com/tvconfidential
Like our Fan Page at www.facebook.com/tvconfidential
Subscribe to our YouTube page at http://www.youtube.com/tvconfidential
Become a patron of our show through Patreon
Join our mailing list and receive our weekly newsletter with news on upcoming guests and other things you'll want to know. Best of all, it's free!
TV Confidential now has its own YouTube channel and TuneIn channel. Catch up on recent episodes, on demand, on the go, and for free.
If you listen to TV Confidential, and like what you hear, please consider supporting our efforts by becoming a patron of our show through Patreon. It's easy to do, it will not cost you much, plus you'll receive some cool rewards every month. To find out more, please visit https://www.patreon.com/tvconfidential (where you can also listen to the last few shows on demand, for free)… and thank you!