ROYAL FOUR FLUSH
Original Airdate: September 20, 1959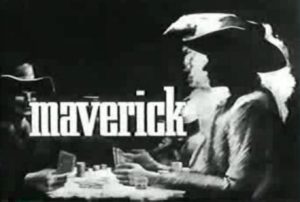 Synopsis. David Frankham guest stars as "Captain" Rory Fitzgerald, a con artist acquaintance whom Bart encounters in Virginia City. Fitzgerald owes Maverick $4,000, but claims to be out of money. Bart becomes suspicious when he recognizes the glamorous "countess" whom Fitzgerald is escorting as Liz Bancroft, a card dealer from New Orleans. He later discovers that Fitzgerald and Bancroft are plotting to swindle wealthy Placer Jack Mason out of $200,000.
At the time he filmed this episode, David Frankham was well on his way to becoming one of the busiest actors in Hollywood, including a recent appearance opposite Vincent Price in Roger Corman's Return of the Fly. According to Frankham, his performance in Return of the Fly was a key factor that led to his being cast in "Royal Four Flush."

LEARN MORE about this episode in the revised third edition of Maverick: Legend of the West, featuring more than 100 pages of new information about the show that made James Garner a star. 25 percent of the net proceeds from the sales of the third edition will be donated to The James Garner Animal Rescue Fund, a nonprofit organization dedicated to raising funds to help rescue organizations, shelters, individuals, fosters, and veterans with emergencies, evacuations, medical care, adoptions, training, pet supplies, shelter, rehabilitation, boarding, transportation, food, and other pressing needs. JGARF is one way for Garner fans to honor Jim's memory and extend his legacy. The revised third edition of Maverick: Legend of the West is available through Black Pawn Press, Amazon.com, and wherever books are sold online.